High-fidelity audio distribution
made simple.
The Entertainment Audio System is an audio distribution system that sounds great, is easy to install, and stable as a rock.
EAS is what happens when Laud combines hi-fi audio enthusiasm with expertise in custom installations and support.
Virtually anywere. EAS is modular and scalable. Right now, there are EAS systems running in locations of many shapes and sizes, like …
Cafés, bars and restaurants
Domestic spaces and hotels
Stores and entire shopping malls
Passenger and cruise boats
Well, then we'll have to get a little technical.
But first, let's build a tiny EAS system together, using only two modules. Picture a nice little café that wants music to play from a tablet to four in-ceiling speakers.
In this scenario a tablet will give us an unbalanced analog signal over mini-jack, but in principal the signal source could be anything: balanced analog using XLR, digital via TOSLINK, AoIP/Dante, etc.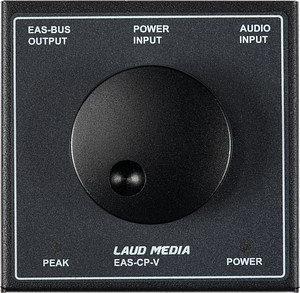 The CP-V is a small table-top gadget with a mini-jack input, a large volume knob, and a USB connection for configuring the system. Easy to use, perfect for our café.
With 2 x 125 watts of Hypex Ncore power, the AMP-250D will make our four ceiling speakers sound great at both high and low volumes.
To finish up we simply connect the four speakers to the amplifier. In many cases, mono is your friend, but since it's a small space we'll couple the speakers in pairs to get a nice stereo image.
That's it. Power up the EAS system, and it will sound great right away. No configuration needed.
A larger system would just be more of the same. Just add modules.
On the technical side, you build EAS systems by connecting EAS modules using CAT-6 cables. This makes it look like an Ethernet based Audio Over IP-system, but it's really much simpler than that …
The EAS bus
Learn more about what goes on inside those cables.
FAQ
That thing you're wondering about might be answered in here.
By now you probably have some questions, or maybe you're wondering how this will fit your projects? Don't hesitate to drop us a message right here, and we'll get back to you.